Images for African Americans in film and television are important in the sense that they give others who aren't in our world a glimpse of who we are and what we're about. Negative images, unfortunately, tend to outweigh the positive ones. Stereotypically, we are loud, uneducated, poverty stricken, destructive, and so on. While these things can be true, we are so much more than that. Television shows (sitcoms and series) in the 1990s and 2000s, to be more specific, did an outstanding job at showcasing us in responsible, educated, united, goal oriented, loving, respectable ways. Below are some of my personal favorites. There are so many more, but I'm just highlighting a few for now:
A Different World- I loved the representation of black students, from various backgrounds, coming together at an HBCU to prove to society that they were more than what society painted them to be, more than stereotypical black youth. These images were positive and helped to redefine what it meant to be black and educated in America.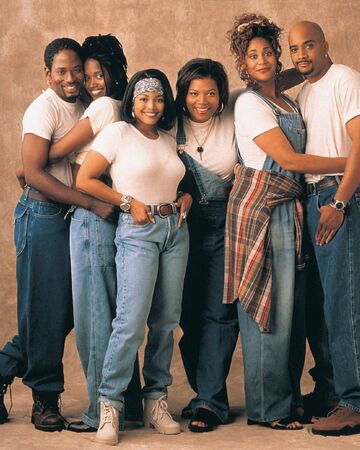 Living Single- This show, in my opinion, demonstrated black excellence at its finest. Every character thrived in their careers and were passionate about what they did. They always developed creative solutions to solve their problems in the office, on stage, under the sink, at the venue, and in the courtroom. Overall, they managed to maintain healthy friendships with one another and when the time was right, their love lives flourished too. 
Soul Food- While this series covered the struggles of the Joseph Family, it shined a light on black unity and depicted goal oriented, well established individuals. Three sisters–one lawyer, one salon owner, and one founder of her own organization– shared an unbreakable bond that was tested, yet they persevered. The men in this show were true backbones. In many cases, they were  just as warm and nurturing as their ladies and when faced with adversities, beat all demons with strength. Leadership qualities were present across the board in this series.
The Bernie Mac Show- Uncle Bernie was the true definition of a father. He had every important conversation with his nieces and nephew, was there for them even when they refused to listen to him, and only wanted what was best for them by looking out for their best interests. The unforgettable life lessons that he taught not only benefited his nieces and nephew, but they also helped me. He captured the essence of a strong, present, and wise father.
Today, sitcoms and television series aren't what they used to be, especially in the black community. It would be great to see more figures like the ones mentioned above. These shows opened the eyes of so many to want to be the very best versions of themselves and gave us all something to look up to in some way. I'm forever grateful to have these images to reflect on and I'm proud to have some of the characters serve as role models to me.
Below are a few honorable mentions:
Family Matters
The Fresh Prince of Bel-Air
Moesha 
The Parkers (Some may be confused at this one. However, I loved Nikki Parker's devotion to go back to school, earn her degree, and loved how she was there for Kim at all times).