by Christopher Quiles
August 25,2020
Army strong, relative statement for our armed service members fighting to protect our rights and our freedoms that we all enjoy. Unless you are one of the persons who see Army Strong as an Impenetrable Wall of Non-Transparency For protecting servicemen and women who are too "Army Strong" against their spouses.
Domestic violence is not a new problem in the military, particularly the army. It seems ripe with conditions that abuser take advantage of. Isolated, living far from friends and family sometimes across the nation and the world. 15% of military family members did not feel physically safe in their current relationship (from a 2017 Blue Star Families survey.) On top of the abuses taking place in the military, domestic violence only recently came under the UCMJ (Uniform Code of Military Justice) for punishment. Before, it was handled through patchwork of other regulations which hindered the ability to track and monitor problems or collect data.
With this epidemic going on in our military, not only against other servicemembers, which the military handles promptly and investigates fully, but the forgotten husbands and wives of the abusers seems to fall on deaf ears.
Kate Ranta, Former Air Force Spouse and survivor of military spousal abuse and military neglect. Her first incident with abuse was when her husband pulled a gun and threatened her, and her son's lives while living in military housing. Air force investigators reviewed the case and recommended a court marital but local command opted for administrative punishment instead allowing him to retire with only minor consequences. (from article "Is the military domestic violence a ' forgotten crisis?'" Leo Shane III, September 18, 2019)
After Kate had got a new home away from her ex-husband with her father and son, he broke into her home and shot her and her father twice while their son watched.
https://www.militarytimes.com/2019/04/25/military-law-enforcement-falling-short-in-its-response-to-domestic-violence-incidents-watchdog-finds/
To my lack of astonishment, this is not the first or last time that these heinous crimes will be committed by military personnel. Across the entirety of the military, dozens of people have faced or face these kinds of abuses. And once more, it seems that the abuser has no care that children are theirs or that they are present. Another person abused by their spouse is a woman who like many others was just doing their best keeping a loving home loving.
Michele Carlisle, former Army Spouse also was the recipient of abuse by her former army ex-husband. She endured some of the hardest times of her life after she moved with her husband to a house that was close by where he was stationed. With 3 children of his who all needed extra care because of disabilities. Her nightmare of constant neglect and abuse was taking its toll on her and her children.
Q: When did everything start to turn for you?
M:"After my husband completed his last deployment, things went from bad to worse at home." "Everyone thought we had the fairytale marriage…. but nobody knew the secrets I kept inside."
Q: Why didn't you leave or get a divorce?
M: "My husband did not want a divorce. He said I was his trophy wife.
"I was miserable, but I didn't let it show because I did not believe in divorce either." "Through 15-month deployments, to moving across the country, and children who were in constant need, it was tough. But I had thick armor. I put on my best game face."
Q: At some point it had to be too much.
A: "It was. I finally decided to leave because I could not bear my children growing up in that kind of environment. I knew it would be a difficult road to start over, but I never knew it would be almost life ending."
Q: Life ending?
A: "My husband moved out of the house, but he was not going to give up that easily. Not without a fight." "He kept saying that he refused to pay me to raise his children and I was not going to do this to him."
While living with another woman, her ex-husband decided to make his children's lives and hers as bad as he could.
M:"He turned off all the utilities in our 5-bedroom house in the middle of nowhere, Alabama. 15 miles from civilization, 15 miles from HELP." "He turned off my cell phone, the electric, the water, the cable, took the car, took me off the bank account, he made it impossible for us to survive." "All that just so I would cancel the divorce."
Q: Was That as bad as it got?
M: "No, Not by far." "He would come "home" every once in a while, unannounced, to see if we were still alive. He often beat the kids, raped me, and told me "It will all stop if I agree to cancel the divorce." "He once tried to pack us up in the car, he told my kids we were going "camping" but he wanted to leave us in the woods tied to a tree so we would die and nobody would find us." "He did not want to pay child support."
"He held a gun to my head as my kids watched."
Q: Didn't you report this to the police or his command?"
M: "The local police wouldn't help" (when the 19-year-old officer showed up after he raped me for the 3rd time, he handed me a pamphlet on date rape and left…. I told him "I was not a teenager on a date, I was attacked and raped by my husband!" The sheriff's office decided that I could not be raped by my husband and told me to drop it and leave town).
"I called his unit, his Sgt, even the post commander!" "I told them my kids and I had NOTHING!" "No way to survive." "No food, no diapers for my son who was only 18 months, no electricity, no car, etc." "No way to manage!"
They told me that he was only responsible for providing a roof over my head, and he was, so they would not help.
Above: Jenny Teeson, center in white, of Andover, Minnesota, looks on as Minnesota Gov. Tim Walz signs a bill at the Capital in St. Paul, on Thursday, May 2, 2019, repealing a Minnesota law that prevented prosecutors from filing sexual assault charges against people accused of raping their spouse. Teeson, testified before legislative committees earlier this year about how her now ex-husband drugged her and made a video of himself raping her while she was unconscious. Prosecutors dropped rape charges because of the old law, and he served just 30 days in jail for invasion of privacy. (AP Photo/ Steve Karnowski)
While all 50 states in America have laws against Spousal Rape/ Spousal Abuse, 17 states in America still have loopholes, in the state of Alabama, where Michelle lived. There are exemptions to the law. One exemption of this law is if the spouse of the abuser is incapacitated or drugged or otherwise unresponsive the abuser is for the lack of better terms "allowed" to have their way with their spouse without consent.
(excerpt from "Some states seek to close loopholes in martial rape laws" apnews.com/3a11fee6d0e449ce81f6c8a50601c687 By Julie Carr Smyth and Steve Karnowski May 4, 2019)
Q: How did you manage to feed your children?
M: I had a ride from another army wife who took me to the food stamps office, and my youngest, who was 1, was crying in my arms. I begged for food stamps! They told me "I could not qualify because I was married." I told them "my son was in my arms crying not because he was "tired" or a cranky child, but because he was HUNGRY!"
I had no car, no job, no bank account, nothing! They finally said if I got a letter from the army stating that my husband was not living at home nor providing, that they would give me temporary food stamps.
Q: How did that turn out?
M: I called his 1st Sgt who told me, point blank,
"Mrs. Carlisle, I am sorry, I cannot write that letter. "
Q: Why?
M: When questioned why he couldn't help a Family who is in need for help, let alone an Army Family, he replied
"Because that would be like telling another government entity that we don't take care of our own!"
Q: How long Did all this go on for?
M: " This Went on From February till November of 2013."
Q: When did all this come to a head and was finally enough for you to leave after constantly being raped and the physical and mental abuse to your children?
M:"It was pouring rain, and about 30 degrees out." "I had gotten a text message from the phone he turned off." "He turned on my cell phone just enough to text me and say that he was on his way to pick me up to go grocery shopping."
"It was November 19, 2013."
Q: What went through your mind? How did you feel when you got the text?
M: "I was scared!" He had done horrible things to his children and to me!" "I knew he had not had a change of heart." " I knew in my heart that he wanted us dead and there was no way I could ever trust him after the things he has done."
Q: What did you do?
M: "I got the Kids ready and waited." "He Came "home" and walked through the front door and I just knew by the look on his face something was going to happen." "I felt my adrenaline rush because I was so scared. He immediately looked at our oldest who was 8 and wearing a Halloween costume from just a few weeks ago, and my husband yelled at him to go upstairs and change, telling my son that he looked like an "idiot." "While he changed, he looked at me as I held our youngest, and started screaming at me to get in the van and put the kids in their car seats. My youngest was so scared he was crying. He was hungry and had no diapers. It was so cold and had been raining. We had a very long driveway. I started to buckle my youngest in his car seat, my ex-husband put my middle child in his seat. I got in the front passenger seat and was soaking wet and freezing. I asked for the keys so I could turn on the heat in the van.
He turned on the heat and took the house key off the keyring to go to the front door and lock up as we waited on our oldest to come outside after changing.
Once my son was in the car, he put his seatbelt on, and I began to shake violently, and I jumped into the driver's seat and floored it out of the driveway.
"I was so scared; I was hysterical crying! I had no money, no cell phone, nothing! But I had to get away! I had to get to safety! I drove and drove! We lived down a highway that was surrounded by farms, in the country, 15 miles of nothing."
Q: How far did you make it?
M: Once I was halfway down that road and knew he could not run to catch up, I pulled over onto a dirt road to get a tissue out of the glove box and calm myself down. I opened the glove box and saw a loaded gun, and 3 pairs of handcuffs.
Panicked, I knew what he had been planning, and I drove straight to Florida to my parents' house.
Q: How has life ben since escaping from that situation?
M:"My kids and I do not have much and have been through a lot. My ex-husband sold everything, whatever the kids and I owned we never got a chance to get any of our stuff. I hardly put food on the table, and when they are home for the summer it is hard because I have no way to put enough food on the table, pay bills, afford haircuts, school supplies, clothes, etc. and my kids are always without."
Q: How has the kids adjusted since then?
M:" My middle son, who is autistic, was bullied at school so bad he suffered mentally. He recently started a website for anti-bullying to help other kids who are being bullied so they can have a friend. He calls it the "ABC-chain", (Anti Bullying Chain.) A place where you can meet friends and have a friend online, and if you are being bullied, they help stop it."
If you google "Zachary Carlisle Weimaraner" you will see a story that was done a few years ago on the news by Courtney Robinson because our Weimaraner ran away when we got to Florida and the humane society gave her away , even though it was my sons best friend, because they had so many people wanting her. They never tried to contact me. My son was very attached to his dog, and we fought for months. Courtney saw our story on Facebook as I begged for the owners to give her back to my son because he was depressed, and already suicidal, and the owner would not because they said they were attached after 3 months. But we had her for 7 weeks and she was 8 years old at the time."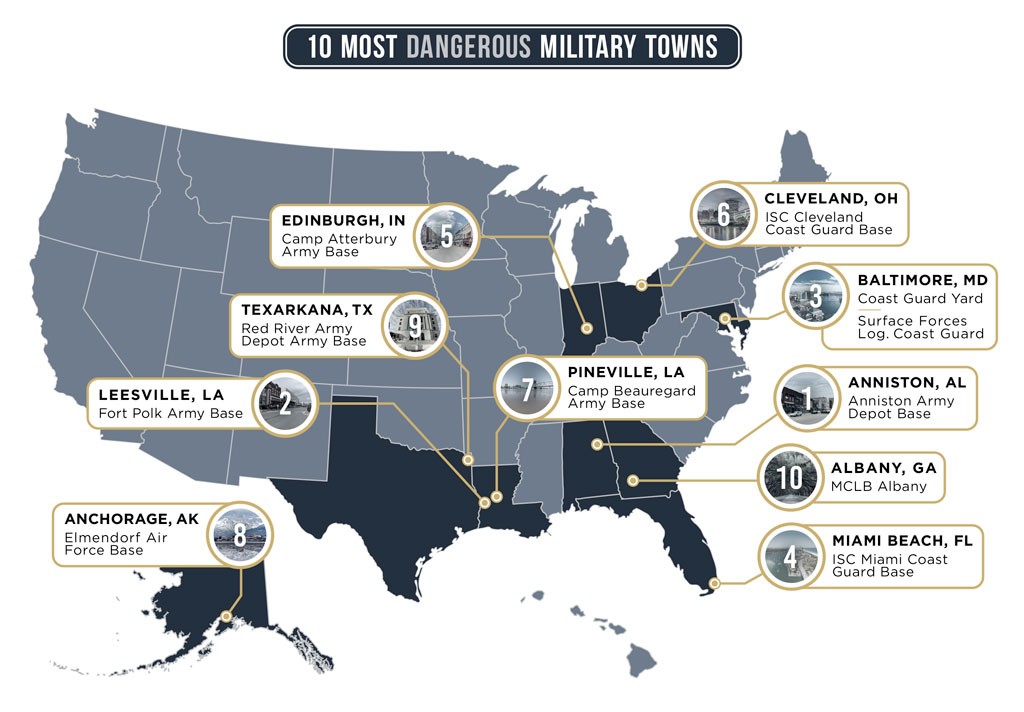 Among the worst places not only to live but to be stationed is Anniston Army Depot Base in Anniston, Alabama. It is not just the topmost dangerous military towns; it also has one of the highest crime rates in the country. 1 out of 29 residents of this small city is likely to be a victim of a violent crime. Among other bases Miami Beach, FL ISC Miami Coast guard base is number 4 and Leesville, LA Fort Polk Army base is number 2. (Article by Cade Kynaston from April 16, The Safest and Violentest Military towns in America). Now During lockdowns because of the Novel Coronavirus Epidemic the abuse numbers have dropped but if you ask retired Col. Don Christensen, Former Chief Air force Prosecutor and now president of the non-profit military advocacy group Protect Our Defenders, "My Experience with domestic violence is that isolation is one thing that drives silence." "I'm guessing it's just not getting reported." He added that domestic abuse in general is "vastly unreported" and framed the Army's reported instances as just the "Tip of the iceberg."( Article by Kyle Rempfer from Armytimes.com/news/your-army/2020/07/21/data-shows-large-drop-in-armys-domestic-abuse-reports-during-pandemic/)
The Army Family Advocacy Program Received 3,260 reports of abuse between October 2019, the start of the fiscal year, and May 2020. That is roughly 20 percent decrease from the same timeframe the year prior, according to army spokeswoman Ellen C. Lovett. What was more likely happening, according to Margo Lindauer, director for Northeastern's legal clinic, was that victims were stuck at home and could not report their abuse, contact legal advisors or alert social services.
"In times of crisis, whatever crisis that is, domestic violence goes up," Lindauer said on Northeastern's website. "With COVID, everyone was seeing rates going down, and we knew that wasn't indicative of what as actually going on."
"It'd be great if it's true." But I'd hope [the Army] understand that fewer people are likely reporting." Christensen said. " I would hope that the Army doesn't become complacent because of "these" numbers." and if they did how many other men and woman face being abused by servicemembers? How many deaf ears can the victims cry out to before the military decides to act accordingly? How many children are going to repeat the cycle of abuse that they were exposed to by people who are looked up to as heroes?
Life Stuff Mental Health Matters TREMG news Army Domestic Abuse Military
From Marine Corps infantry to Personal Training To I.T. Work. Such an Array of Life Experiences Plus All The Different Views From Different People Through My Life. Expressing The Diverse And Often Over-Looked Voices.