These Pictures Will Bring Back Halloween Memories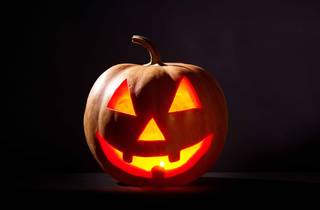 Just because Halloween 2020 is not the same doesn't mean we cannot think back on previous Halloween memories. In fact, research shows that the recollections of memories makes us just as happy as experiencing the events. So here are some pictures and descriptions that may just bring back some better times of our lives
Bloody Mary: "Bloody Mary, Bloody Mary, I'm the one who killed your baby", you said as you spun around three times and flickered the bathroom lights on and off. These words and actions sparked a generation of kids who were afraid of seeing Bloody Mary in the bathroom mirror and taking them away to who-knows-where. Now that we are older, we know that this ritual is untrue, but many YouTube videos showed Bloody Mary herself in the mirror, which was more than terrifying for kids. Some are realistically edited while others are not, but we will never forget the sheer terror we felt as kids hearing about Bloody Mary.
Elementary School Halloween Parties: Ah, yes here is a memory that will you happy. Remember when going to school was a thing? Not only that, but do you remember when students were assigned to bring one treat for the class Halloween party? Some treats included candy, Oreo cookies, crackers, brownies, and those soft cookies with orange frosting for Halloween. Elementary school Halloween parties were a wonderful opportunity to make friends as we sat around playing board games like Monopoly and Clue. Then, the teacher would being in the TV on wheels (which always made us happy) and played movies such as "It's the Great Pumpkin, Charlie Brown" or even "The Nightmare Before Christmas." There was also some background Halloween music playing, and it was overall a fun way to end school before Halloween night. Speaking of Halloween music….
Skin and Bones Song: Sure, we could've chosen Halloween songs such as "Monster Mash", "Ghostbusters" or "Thriller", but those are too predictable. How about this song that we used to sing in music class around Halloween? Some kids left and class or hid in the closet, anticipating the class to yell "BOO!" at the top of their lungs at the end of the song. Other students enjoyed scaring the pants off of others during this song. Whether you liked the "Skin and Bones" song or not, we cannot deny the nostalgia it brings us.
Party City Commercial: According to Krystina Gustafson, Halloween accounts for roughly 25% of Party City's business revenue every year. That fact is not surprising seeing as many of us share memories of picking out our favorite vampire or movie character costume from Party City (remember the colorful floors?) Perhaps what really made us hype was seeing their Halloween commercial which featured spooky laughs and younger adults dancing to "Thriller" in their Halloween costumes. Once we saw this commercial, we knew Halloween was right around the corner, and we will never forget the impact Party City made on creating an ideal Halloween.
Pumpkin Picking: October was the month where pumpkin patches began to open again, and kids were absolutely hyped. There was something very fulfilling about picking the best pumpkin in the pumpkin patch and running around like the kids we were trying to find it. Oftentimes, there was an inflatable slide, trampoline, corn maze, and ball pit. There were also food vendors selling corn on the cob and pumpkin pie. These aspects only added to our experience of pumpkin picking and was also an amusing way to bring in the Halloween season.
Valve Corporation: Sometimes, nostalgia can come to us in the smallest ways, even through something as insignificant as an opening logo. Valve Corporation was known for creating horror games for Halloween such as "Half Life" , "Left 4 Dead" and "Portal". Remember turning on our PlayStation 2 or our Dreamcasts to play these games? This logo would appear and, needless to say, we do not find the idea of a man with a valve in his head too comfortable. It's even scarier in "Portal 2" when the man turns his head towards the viewer. Now that's just unnecessary.
Skittles: When we think of Halloween, the first thing we think of is candy. This could mean anything from Milk Duds to Reese's Peanut Butter Cups to Dum Dum Pops. However, Skittles just seems like the most nostalgic for Halloween, maybe because it is the only time of year we eat Skittles. Or maybe because, according to TheDailyMeal, Skittles are the top selling Halloween candy, with 3.3 million pounds sold on average every Halloween. Either way, we cannot go a Halloween without eating them and this year is no exception.
Trick or Treating: We saved the best for last. Trick or Treating is the sole reason we were excited for Halloween every year. After donning our Halloween costumes and taking pictures, we grabbed our goodie bag and set out to get as much candy as possible. We never knew what we would get, but ringing people's doorbells and asking for candy, which would seen as psychotic any other time of year, was just a memorable experience. We also got to see kids jumping through piles of leaves, and people in other Halloween costumes as well. Sometimes, we are complimented on our choice of costumes and the whole neighborhood was active in the Halloween tradition. From getting candy to egging houses and ding-dong ditching, Trick or Treating is definitely the most nostalgic part of Halloween, and the month of October for that matter.
Even though Halloween is going to be less lively this year, I hope this article made you a bit more joyous before the Halloween season. I hope you can look back on these memories and remember how you felt participating in these activities during Halloween. Don't worry, things will go back to normal soon, so hang in there!
Thanks again and stay safe! Happy Halloween!