World Of Podcasts: On The Ground Level By For Us Nation
A non-profit club for the woke millennial and those who support them. Tahyira and Ashley own For Us Nation, http://www.forusnation.com and launched a podcast to engage more storytelling in their community.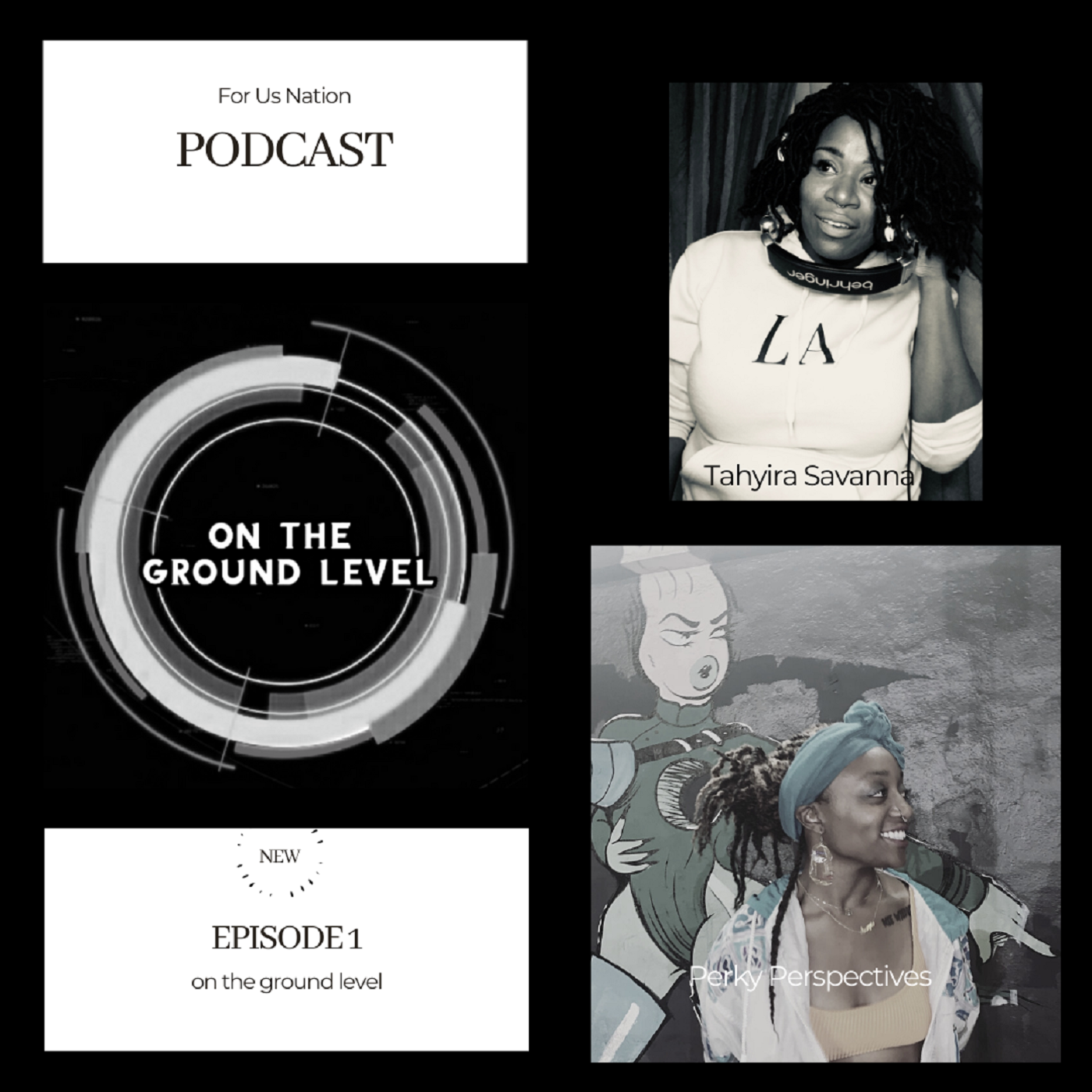 On The Ground Level Ep. 8 Welcome to On The Ground Level Thank you everyone for tuning in. Please follow us on social media. @forusnation And on Patreon at Patreon.com/ForUsNation Spotify:
https://open.spotify.com/playlist/1b8&#8230
; And go check out our website and subscribe to our mailing list ForUsNation.Com and RSVP for our upcoming Meetup on July 19th About Perky and you can follow my social media @perkysexycool and @perkyperspectives You can also find guidance with your wellness journey through @LovePeriodLLC Also check my campaign to raise funds to send feminine hygiene kits to women and girls in need through the link in bio About Tahyira @iletthegoodtimesroll Writer, Activist, Entrepreneur youtube producer Tahyira's Show – Lifestyle talks and trends Live Hangouts: Tahyira Keeps It Too Reel Podcast for Black mental health Twitter @TAsterisk About Our Guest Today Sumumba
http://themaatseries.com
@sumumba_sobukwe S.S. "SUMUMBA SOBUKWE" NEELY, BSW, is an Experienced organizer, social worker, seminar leader, consultant and author. He is the founder and creator of THE MAAT SERIES, a consulting and educational organization that specializes in personal and professional development workshops, trainings, consultations and facilitation. He has creator over 70 workshops and trainings and has delivered his services to thousands across the city and in several states. Sumumba Sobukwe is also the co-creator of Occu-Evolve, which is currently among the longest running and most active groups within the Occupy Wall Street Movement. Please find more information through the website. Questions: What does protecting a woman look like to you? What inspired you to work in this field of interest? Is there any example of an incident surrounding a women's right to safety that you feel really affected you? 3.Is there any advice that you can give to men who have considered violence against women whether it be physical, financial, or emotional? Can you describe your relationship to mental health and how this relates to your interactions with women? In what ways do you advocate for your community? This podcast is powered by Pinecast.
RSVP for their monthly meet-ups which takes place in Brooklyn and Los Angeles respectively.
TREMG news World Of Podcasts for us nation on the ground level World Of Podcasts
TREMG BLOG! – COVERING ENTERTAINMENT NEWS WITH A PURPOSE AS WELL AS EMPOWERMENT STORIES OF EVERYDAY PEOPLE. #tremg
MORE ABOUT OUR BRAND:
We Are Dedicated To The Underground Community of Talent….
The RedEyeMediaGroup strives to reach the underground community as it pertains to marketing, public relations, event planning, and talent management. They also believe that it is important to give back and all of their work involves heavily into contributing to not for profit causes. They believe that with the proper tools talent at any level can reach their full potential.
CONTACT THEREDEYEMEDIAGRP@GMAIL.COM OR FIND US SOCIALLY FOR MORE INFO