My Streaming Gem: The Immigrant (2014)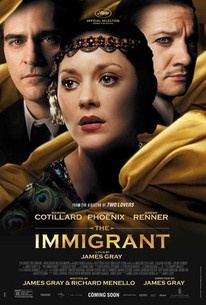 Here we are in the sixth month of the coronavirus lockdown. I've read and reread everything on my bookshelf. I've watched all of my DVDs. And, as of this week, I've run through all the overhyped options on Netflix. So, I decided to delve deeper into some other streaming options, and I happened upon Tubi, a free service with a huge catalog of lesser-known films. What a God-send.

I'm a huge fan of gritty period dramas, so I went looking for something in that genre. I hit gold when I found my new favorite streaming gem: James Gray's The Immigrant (2014).

The film opens as two Polish sisters, Ewa (played superbly by Marion Cotillard) and Magda (played by Anna Sarafyan), arrive on Ellis Island in the 1920s. Seeking the American dream, they find instead the American nightmare.

As soon as they disembark from the ship, Magda falls hopelessly ill and is placed in quarantine. Ewa (Cotillard) is then forced to find a way to earn a living to help pay for her sister's healthcare. This is where Joaquin Phoenix's Bruno arrives on the scene. Charming and seductive, Bruno convinces Ewa that the quickest way to earn enough money to help her sister and obtain American citizenship is to become a prostitute. Innocent and filled with hope, Ewa agrees.

Cotillard gives a gorgeous, subtle, and heartrending performance as the hapless immigrant stranded on foreign shores. She looks so beautiful in the period costumes, and she truly inhabits the role. James Gray's superb direction makes the story believable and memorable. The film captures all the grittiness of the mean streets of New York in the 1920s. It is nuanced, beautiful, and intelligent. Stream it free on Tubi.
TREMG news film review marion cotillard Streaming Service the immigrant
Freelance writer with a focus on art, literature, film, acting, and mindfulness.