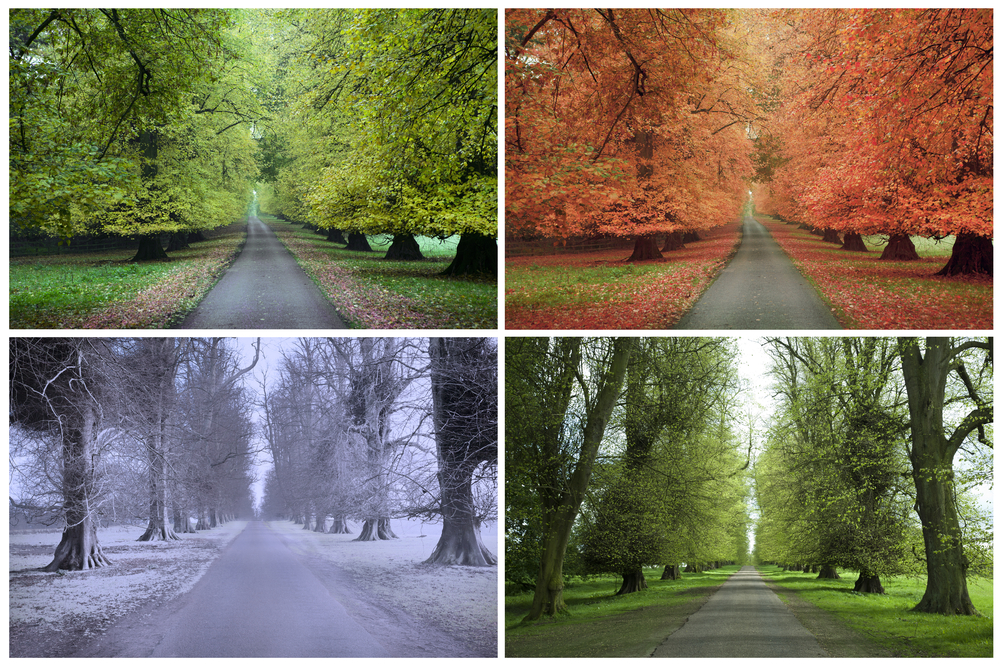 The incredible month of October is upon us meaning, indeed, it is officially Autumn. Autumn is a season of placidity, nostalgia, and comfort. While it's a shame the entire year can't be like this, there are still some months of the year that are quite enjoyable-and some that are miserable. Here is our definite ranking of every month on the calendar:
#12 August: Now, keep in mind that people's birthdays will not be taken into account in order to prevent bias in this countdown. Therefore, we do not hate anybody who is born in August. That being said, the month of August sucks. Sorry, but it does. After a relaxing vacation getaway in July, by August, everybody is "Vacationed out". We just want school to start again and the weather to get cooler, but nope. August flips us the bird by giving us some of the most sweltering days of the year. It's too hot to make plans with friends, not to mention some are on vacation, so the dog days of summer are in this month. There is absolutely nothing redeeming about this month, and that's why it is the worst month of the year.
#11 February: While Autumn and Winter are clearly superior to Spring and Summer, February is definitely the worst of the cold months. First of all, we have Valentine's Day or as we like to call it, "That Commercialized Holiday That Makes Fun of Single People". Seriously, why does Valentine's Day exist? People should love their significant other any day of year, so why does one holiday make it more special? Also, while the weather is cold outside, all we could think about is the hours of shoveling snow ahead of us to bring our car to work/school. Because of this reasons, February is a huge letdown in a glorious time of the year.
#10: April: According to a poll on Psychology Today, people consider April the most stressful month of the year, and it's easy to see why. Spring is here and, with that, allergies are beginning to flare up. Also, taxes are due in April, and when money is involved, you can bet your bottom dollar (no pun intended) that people's stress levels will be high. The cold months are in the rearview mirror and won't return for another 5 months, so get used to this weather. For Christians, however, Easter provides a bit of promise during a rough month, but the negatives severely outweigh, and if you're not Christian, I will pray for you (again, no pun intended) during the month of April.
#9 June: Picture this: it's the last day of elementary school. All work and assignments have been completed, so the teacher let the class relax. Everybody is playing Hangman, Club Penguin, maybe even 4 Sqaure, reuniting one last time before parting for summer vacation. Sure, the weather is scorching and will only get warmer these next two months, but nobody is complaining when they're enjoying the last day of school. That last bell rings and, like madmen, the kids are rushing out of school, throwing the textbooks away and officially beginning summer vacation. Sounds fun and nostalgic, right? Well, fast forward to college. You have chosen to take a summer class in order to complete your Degree sooner. The weather is hot and you have to cram lots of coursework into your brain throughout the summer, all the while, your younger relatives are teasing you and relaxing the days away. Even if you're not enrolled in a summer course, what do college kids honestly do over summer vacation? Scroll the Internet? Sure, you have friends, but you can't hang with them everyday. They have plans too. June is a decent month but it sure isn't what it used to be.
#8 May: "April Showers Bring May Flowers", huh? Good luck finding any flowers in this month. In May, the flowers are still blooming and won't have grown until June. Allergies are rampant and the worst part is knowing that at least 3 more months of hot weather are awaiting us. However, the weather in this month is very comfortable: not too hot not too cold. Barbecues are starting up again, especially during Memorial Day, so May redeems itself in that regard. But those allergies and the impeding hot weather ahead…count us out.
#7 September: The misery of August is finally behind us and you know that the good stuff is right around the corner in October. "Just one more month", you say to yourself as you slog through the last of the hot days. However, September provides us with help pushing though these days. Its time to return to class and see our friends again. We can catch up on what we did during summer break or even make new friends. At this point, we have accepted the fact that it's time to stop slacking off and return to work. September can be thought of as the "New Year" and makes us feel, at best content and at worst neutral. Oh, and this song exists to push us through the hot days: https://www.youtube.com/watch?v=Gs069dndIYk
#6 November: For Americans, you already know what our favorite part of this month this because it's also your favorite part: Thanksgiving. The banquet of autumn food as well as excuse to gorge ourselves with food and fall asleep afterward is a holiday that any American will appreciate. For other countries, however, November is still a solid month. The ides of Autumn have hit and Fall foods and trends are in full swing. Even if you don't celebrate Thanksgiving, the holidays are coming around and there's something for everybody in December. Just hang in there and enjoy the coziness and thankful nature of November for now.
#5 January: There's just something really refreshing about starting a new year and setting resolutions, despite knowing you'll break them in the next few months. Watching the ball drop in Times Square and gorging in one last holiday banquet is thee perfect ending to a nearly perfect month of December. Most people slack off in January since the year starts off slow. Cold, refreshing days are coming too and we can even see our breath. There's really nothing wrong with January.
#4 July: School/College is out! After a rough year, summer vacation is back and everybody is in the mood for a getaway! Beaches are running wild with people, amusement parks are crowded, the city is more lively than ever, and everybody is enjoying themselves on vacation, regardless of how hot it may get. The 4th of July gives us an excuse to celebrate further with more barbecue parties and relaxation. In short, July is one giant party to celebrate before the sheer disappointment of August.
#3 March: The month of March essentially takes whatever is "good" about February and makes it better. Instead of Valentine's Day, we get St. Patrick's Day, a Day of drinking, acting crazy, and pinching people who aren't wearing green. Not to mention corned beef and cabbage is always festive (and tasty).Also, while the snow is still likely on the ground, at this point, much of the snow has melted away. Therefore, we can enjoy the beauty of snow and cold weather of March without the hassle of shoveling or the inconvenience of walking around. Sounds like a pretty good deal, no?
#2 December: Christmas, Christmas, Christmas! Hanukah, Hanukah, Hanukah! Kwanza, Kwanza, Kwanza! December is a month of celebration and holiday tradition. Whether picking out a Christmas tree, lighting a menorah, or reflecting during Imani, December has something for everybody. We get to see our family for the holidays and, as bothersome as they may be, they are still our family and we love them. All of these traditions make us feel like kids again and it all ends with a start to a New Year. Overall, whether watching holiday movies or baking cookies, December provides us with memories that no other holiday can replicate, and that's why it's the second best month on the calendar. But, of course, here's, by far, the #1 best month ever which is…
#1 OCTOBER!: Yeah, there's a good reason we scheduled this post for October. October is a month of absolute perfection and we will go to court over this statement. The crisp trace of the Autumn wind is blowing on our faces and the brisk nature feels absolutely incredible. Fall is here, the leaves are falling off the trees, football is coming back, Fall foods are back, it's all perfect! Holidays like Indigenous People's Day are very reflective while holidays such as Halloween are very fun. Picking out costumes and pumpkins is always enjoyable regardless of age and October allows us to do this in the best weather of the year. Also, while other months can be enjoyable, all have at least one flaw. In October, however, EVERY day is enjoyable and we wouldn't change anything about it. Overall, October is the best month of the year by a wide margin. Admit it!
Each month of the year provides a different experience and some experiences are superior to others. The level of superiority, however, depends on opinion. However, nobody can deny the optimistic feeling that October brings to us and, now that the month has come, let us appreciate Autumn in all it's glory. Have a great (and perfect) October!