Fans Protest Over Tacos, Taco Bell Facing Backlash Over Latest Menu Changes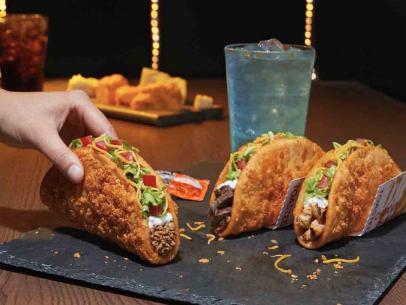 For the first time since 1962, Taco Bell fast food chains are discontinuing iconic items from their menu, and the customers are not taking it too well.
The fast food chain is known for their unique variations on the classic Mexican favorite. Examples include Black Bean Quesaritos, shredded chicken burritos, cheddar chalupas, cheesy potato grillers, crunchwraps, the classic soft taco, and many more. However, after the chain recently announced their discontinuing of certain items, fans have been fighting back through protests and petitions.
The change in the menu that has sparked the greatest conflict is Taco Bell's Mexican Pizza. The Mexican Pizza consists of cheese, meat, refried beans, tomatoes and bread served in a circular shape, so as to resemble a pizza. It also comes with a secret "pizza sauce" to add a kick to the overall appealing taste. Many customers consider it to be one of Taco Bell's strongest assets to the menu. One anonymous Taco Bell fanatic says, "The Mexican Pizza is purely a Taco Bell creation and I have never seen anything like it anywhere else". However, as of November 2020, Taco Bell is taking Mexican Pizza off of their menu.
Other changes to the menu include getting rid of the Shredded Chicken Soft Taco which consists of bone pulled chicken in Mexican spices, and the 7 Layer Burrito which, as the name suggests, is 7 layers of items rolled into a taco shell: tomatoes, beans, rice, three cheese blend, low fat sour cream, guacamole, and lettuce. Both of these items, along with the Mexican Pizza, will be removed from the menu starting November 5.
These changes to the menu have sparked peaceful protests, mostly in the form of petitions. One Taco Bell fanatic, Krish Jagirdar, has created a petition on Change.org which calls on fans to "band together, show support, and save the Mexican pizza". The peititon now has over 100,000 signatures and was even featured on the Rod Ryan show. Jagirdar follows up on this petition by saying "I truly, truly believe we have made an impact. That we have made it known that we love the Mexican Pizza and we don't want it to go. I think that the executives at Yum! Brands and Taco Bell have heard us, but we need to keep going."
Other fans have protested the removal of the Mexican Pizza, Shredded Chicken, and 7 Layer Burrito through comments and complaints. "Please don't do this to us", wrote one commenter. "Youv'e probably already lost customers from the past things you've removed. Your'e just digging yourselves a deeper hole", wrote another commenter. Another commenter summed up Taco Bell's item changes in 8 words, "Stop getting rid of all the good stuff!"
Taco Bell has been attempting to quell the protests and petitions by introducing new menu items that they hope will please their customers. One example is the Chicken Chipotle Melt, which consists of all white meat grilled chicken, Chipotle sauce, and melted cheese for the affordable price of $1. Another example is the Quesalupa which is a chalupa shell stuffed with melted cheese. However, the protests of the Mexican Pizza, Shredded Chicken, and 7 Layer Burrito prevail and it is unknown if the chain will preserve these dishes.
Food For Thought Life Stuff TREMG news food weekly highlight